2021.07.15
JX Nippon OIL & GAS Exploration Corporation
Japan Vietnam Petroleum Company
Donation to Vietnam Vaccine Fund for Covid-19 Prevention and Control
Donation to Vietnam Vaccine Fund for Covid-19 Prevention and Control
We would like to express our deepest sympathies to the people, their families and related parties affected by the new coronavirus infection (COVID-19).
The Vaccine Fund for purpose of procuring, R&D and production of Covid-19 Vaccine for Vietnam people was established by Vietnamese Government at the end of May, 2021 for public fund raising as one of measures to tackle with the spread and seriousness of new wave of coronavirus infection in Vietnam.
In response to the call from Vietnamese Government, JX Nippon Oil & Gas Exploration Corporation (JX) (President and CEO: Hiroshi Hosoi) donated 50,000 United States Dollar (about 5.25 million yen) to the above Vaccine Fund on 6 July 2021 as a part of our social contribution to Vietnam, a country where we have been carrying out our business for a long time.
In addition, a corresponding local fund that focus more on providing necessary supplies for Covid-19 protection was established by Ba Ria-Vung Tau Authority, where the local office of Japan Vietnam Petroleum Company Limited (JVPC) (President: Takao Hashimoto), a subsidiary of JX, is located. JVPC donated 200 Million Vietnamese Dong (about 1 million yen) to the local fund.
JX, as a member of ENEOS group, will contribute to the development of civil society through social contribution activities as stated in the ENEOS Group Code of Conduct.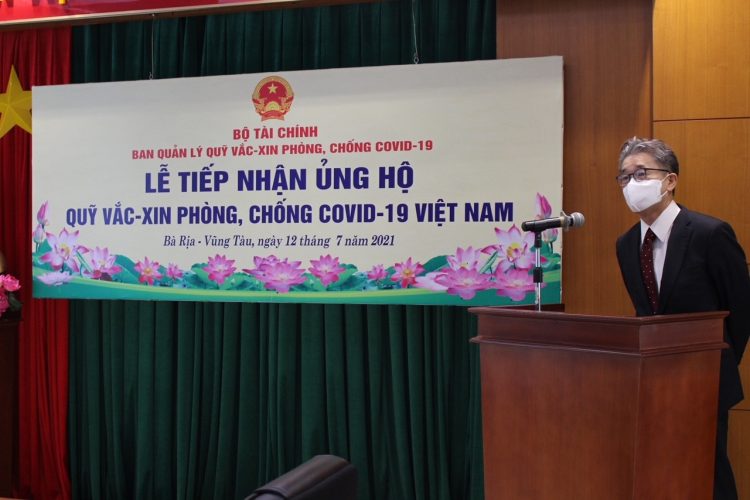 Mr. Kurata, General Director of Vietnam Office, gave a speech at Presentation Ceremony for donation to the National Fund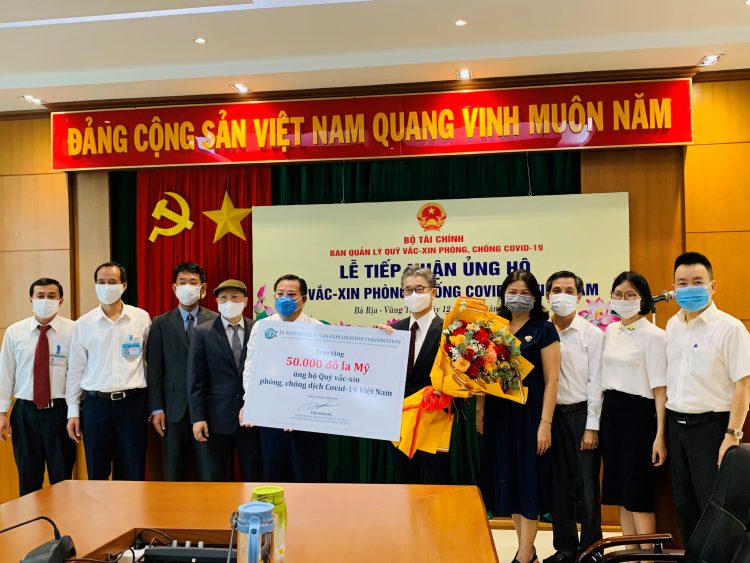 Presentation Ceremony for donation to the National Fund.  With Mr. Ngo Thanh Duc, DGD of BR-VT Provincial State Treasury (representative for the Fund)   Mr. Nguyen Toai, Vice Chairman of BR-VT Provincial Fatherland Front Committee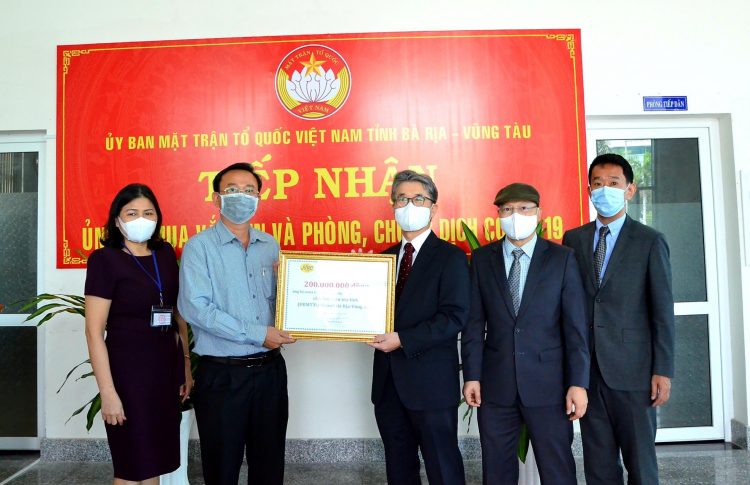 Presentation Ceremony for donation to the BR-VT Provincial Relief Fund. With Mr. Le Hong Ngoc, Vice Chairman of BR-VT Provincial Fatherland Front Committee